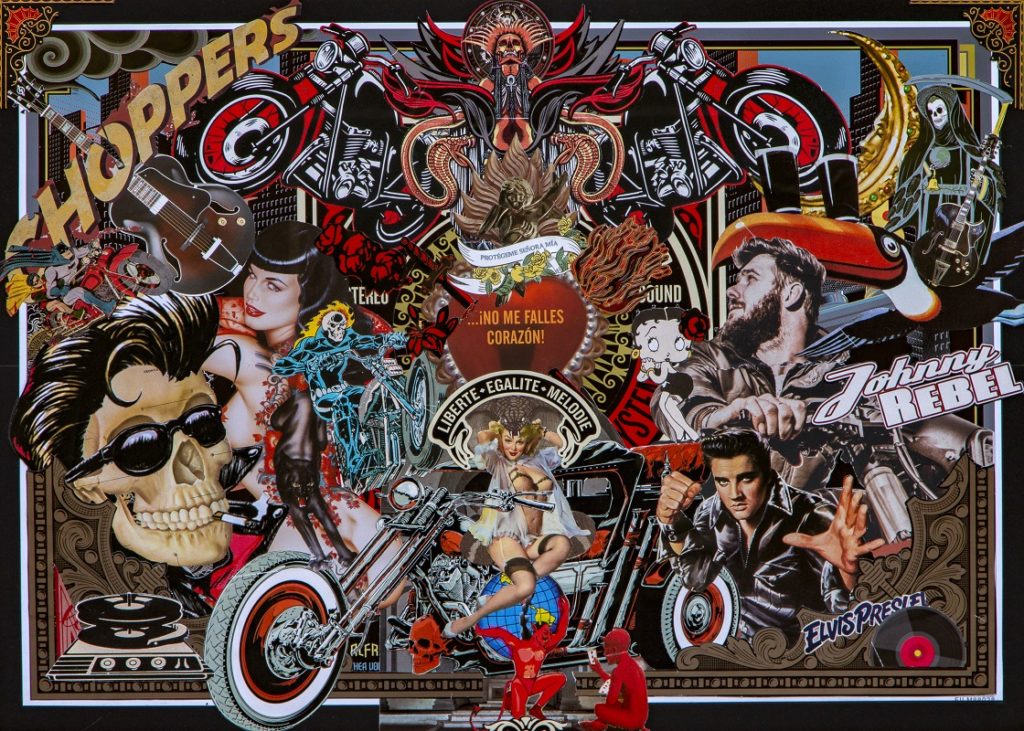 Ernesto Muñiz is a Mexican artist who conveys his messages through personal, colourful and very expressive collages. Each collage is a unique handmade artwork, a beautiful mix of colours that blend together literary references, images from Pop culture, Street Art and comic book characters.
During a very long process of cutting and pasting papers, Ernesto creates beautiful and intricate collages where mythology, religion and popular culture are featured to present alternative realities filled with symbolism.
Besides analogue collages, Ernesto has leaned onto digital creations while remaining truthful to his style.
Ernesto's work has been exhibited all over the world, from his native Mexico to Italy, France, England, Canada and the United States. He has participated in solo and permanent exhibitions and has collaborated with the American streaming giant, Netflix.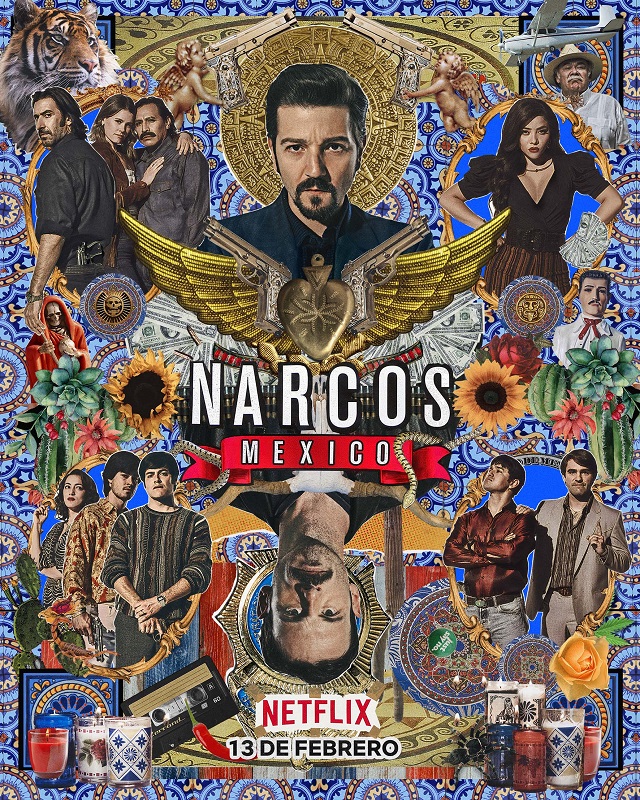 Breaking borders
His pieces cannot be replicated, as each piece of art is filled with unique trimmings, and his collages are one of a kind. Perhaps this is what caught Netflix's attention when the streaming platform asked the Mexican artist to create the official advertising poster for the second season of the hit series 'Narcos', and that's when the artist's work catapulted.
When asked how he got the opportunity, Ernesto said, "It was really funny, they just googled 'Mexican collage', and the first thing that came up was one of my pieces." The construction of the 'carte' took about four months. Netflix gave the artist a few photos that needed to be featured and some guidelines, but for the rest, he had complete artistic freedom, after all, it was his unique point of view and his unique work they wanted, right?
"What elements did you add to the poster?
You can find representative elements of Mexico like drug trafficking and religion, but also of the show, the characters and the story. I also added some elements that I always use in my works, like hearts and wings. Thanks to this poster, my work has been known worldwide, it is a before and after in my career, it is a pleasure that they noticed the work of emerging artists like me, they did not play it safe with someone famous." Ernesto said to La Vanguardia.
This is only a small sample of how far the internet can take us, of course, you have to do the work! so if you're an artist don't ever underestimate yourself, keep working, keep creating, keep supporting other artists, be proud of what you do, and put yourself and your art out there, for the world to see!
Art is also contagious
A great example of his powerful message is the controversial "Coronavirgen". This artwork was created as a way to speak up in the face of the coronavirus crisis and was stuck on the walls of the Spanish capital. The aim of the Coronavirgen was for Ernesto to invite us to reflect through his art. It's a clear protest that forces us to see inside humanity, the current times and what we prioritize, or care about. Challenging the catholic faith, the artist presents the virgin with a gas mask while calling attention to the environmental problems that our generation is currently experiencing.
Below you can see the whole piece construction process thanks to the lens of Perla Sanchez, who reviewed this creation for La Vanguardia, one of Madrid's most important newspapers.
The Coronavirgen has been published in 2020 in the book  'Street Art in Times of Corona' by Xavier Tapies. Published by Graffito Books. Publication of the artwork 'Coronavirgin' p76.