Last week, I stumbled upon a painting teacher's youtube page. In a video, he explains that painting his backgrounds before starting, had, among other things, the advantage of avoiding the white page syndrome...

For the 2 artists that I chose to present this month in my newsletter, a blank canvas embodies a brand new start. Ewa Hauton and Marion Cadet have both chosen to work only on canvases that have been primed and left white, immaculate, without any colored background. The great advantage of a background left white is that the use of another color will strongly contrast and conflict. Visually, black on a white background is essential. The love of black and white is universally shared, it offers a strong contrast, accentuates the lines and continues to stimulate the imagination.
Thus, in the works of Ewa Hauton, between impulse and mastery, black ink becomes an omnipotent medium. The white background sublimates its fluidity, its ductility and underlines the spontaneity of the gesture. Fragile and moving, sometimes ending in a thin line of droplets, these black lines assert themselves thanks to the white background, and accentuate the movement and rhythm of these feminine, sensitive and elegant bodies.

The striking thing about black and white is that you can do a lot with a little. By removing the superfluity of colors, black and white allows Ewa Hauton to restore with great sensitivity and delicacy, the movements of the body, keeping only the essential: the expression of life.
For Marion Cadet, such a sacred white background is a virgin space where everything can be reflected, where everything can emerge. Black oil is her only medium. She works it in large, dense or flush strokes.
On a white background, each gesture, each movement of the brush will leave its trace in a very particular way. Loaded with oil, the brush will mark the canvas with contrasting flat areas. Conversely, when the brush touches the canvas, scratching it delicately, the white will show through the less opaque oil.
In works bursting with freshness, Marion Cadet never ceases to juggle with these effects of transparency and light. By playing on the opacity and the application of oil, her brushes are back on stage, sculpting the shadow, absorbing and slowing down the light, while in counterpoint, the whiteness of the canvas is always there, radiant, ready to support the cause.
The black and white also allows Marion to oppose the precision of the details, the raw aspect linked to the technique used and to the canvas left as it is, between the impression of the sketch and the quasi-photographic rendering of the subject...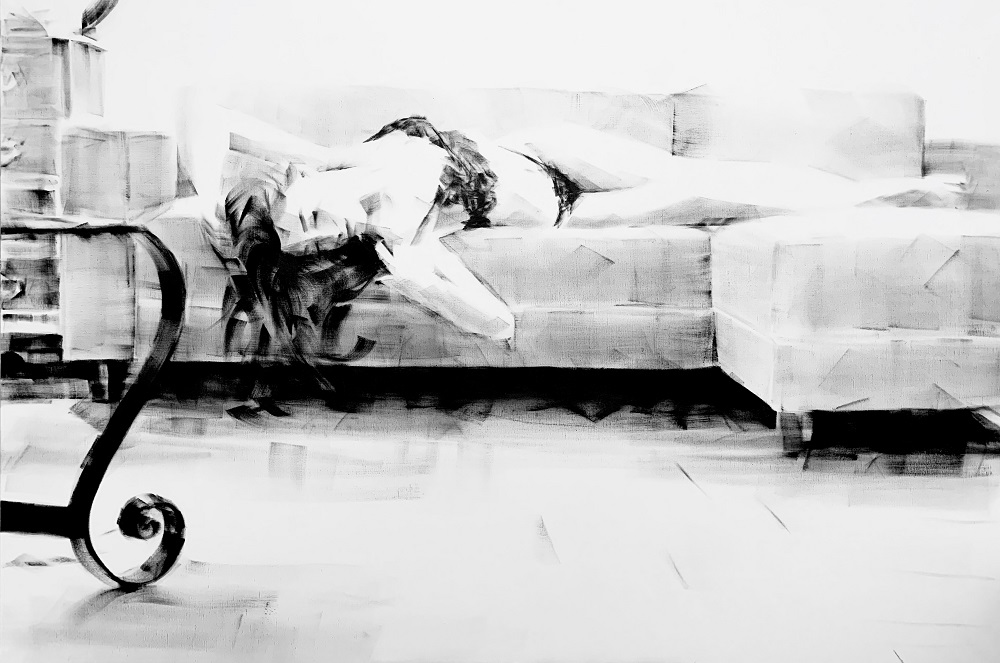 In the words of the painter Robert Ryman, white "allows other things to become visible". In Ewa Hauton and Marion Cadet's work, these white canvases will in any case allow oil strokes and black ink jets to come to life in a restrained yet elegant way.