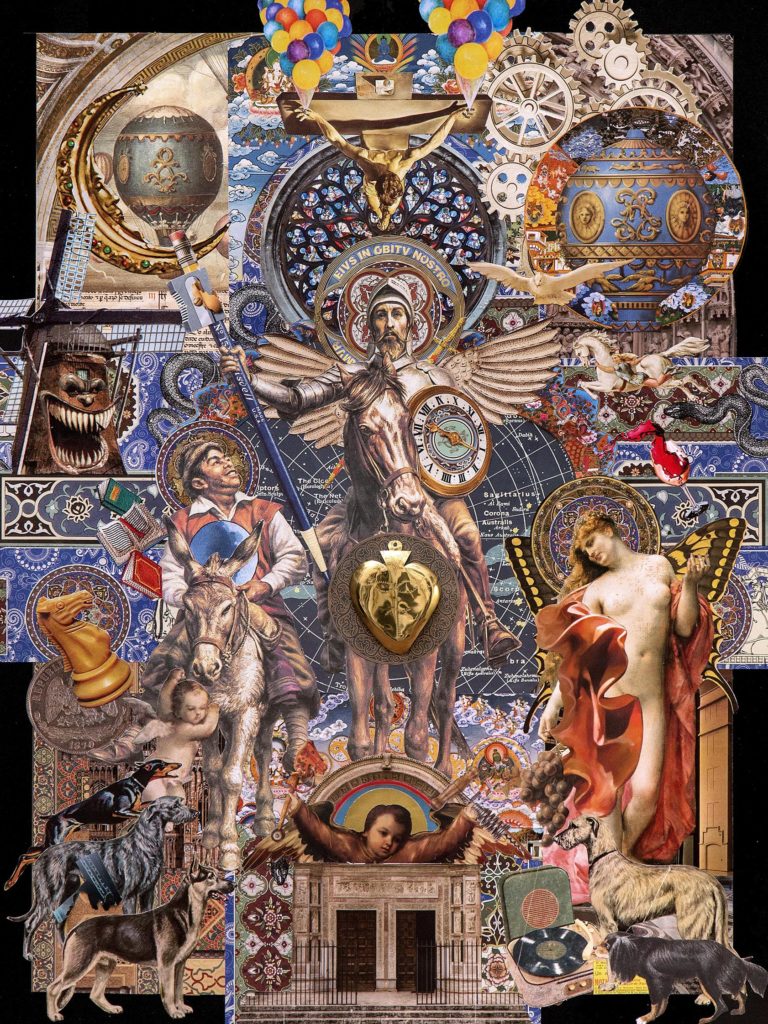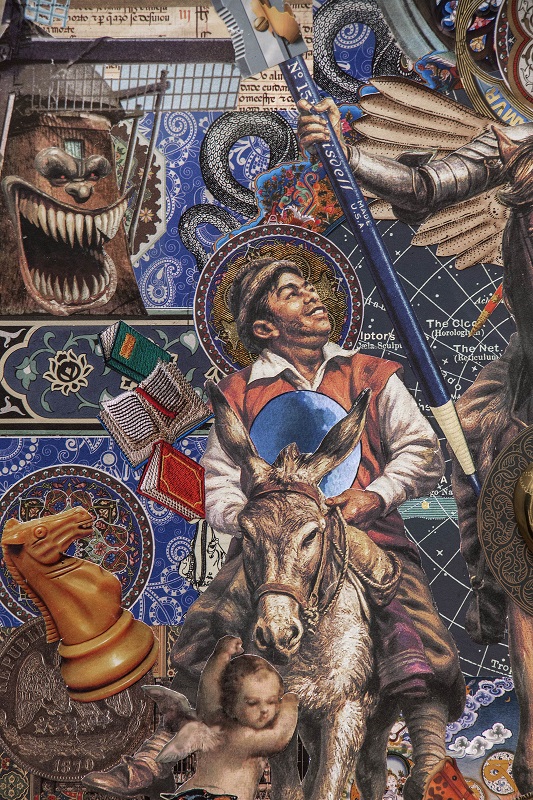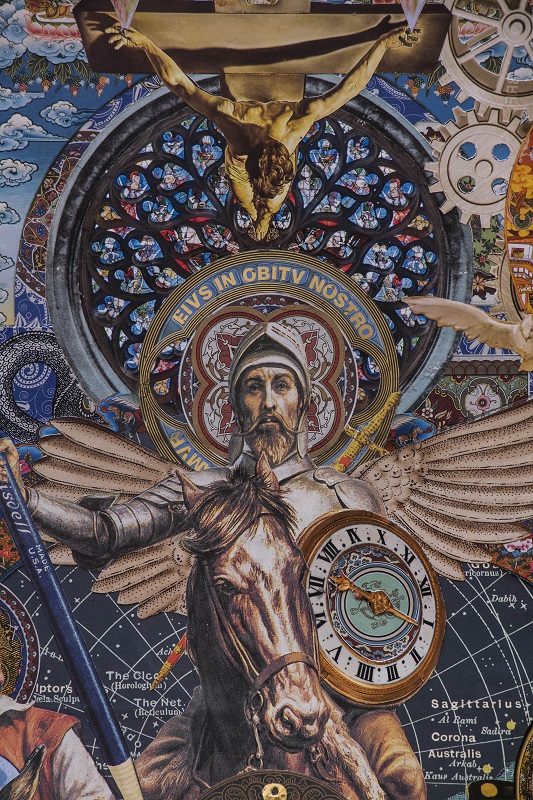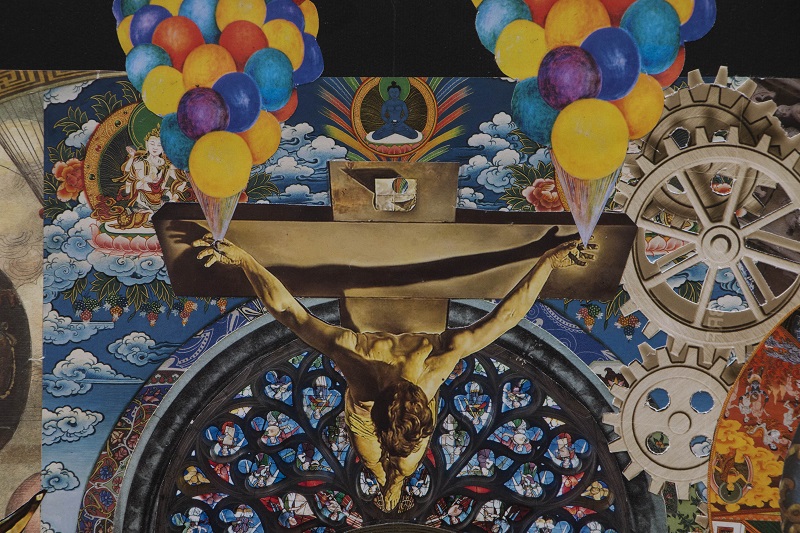 Like many artists, Ernesto Muñiz is inspired by what he lives, by the world around him. Since he has been living in Madrid,  Ernesto Muñiz uses books and magazines that are very different from those he can find in Mexico or London, where he also lived for a few years. It is therefore logical that he has taken a look at the Spanish literary work par excellence, the most widely read after the Bible: "Don Quixote, the Man of La Mancha" by Miguel de Cervantes.
To create this breathtaking collage entitled "Ladran, Sancho, señal que cabalgamos" (Dogs bark Sancho, that's the sign we're moving forward), Ernesto Muñiz used numerous literary and artistic references. Here is a brief overview of his journey through the space-time of this monumental literary work.
The illustration of Don Quixote and his squire Sancho that Ernesto Muñiz used in this collage, is the work of Jesús De La Helguera, a world-famous Mexican painter and illustrator.
In the work, we can notice that Don Quixote is armed with a pencil instead of a spear. There is indeed no better weapon than writing. Man must develop, use and expand his knowledge which is always his best protection, his best weapon. Ernesto Muñiz replaced Don Quixote's shield with a clock, a direct reference to the outdated time in which our hero lives his delirium of chivalry, to his long wandering…
To the right of Don Quixote is Sancho, his faithful squire and friend. He rides his donkey, Rucio, which is raised by an angel. Sancho holds the moon in his hands, a direct reference to the Knight of the White Moon who has bewildered and thrown our Don Quixote into the dust. Forced to abandon his quest following this defeat, our hero must return to his village where he will soon die, having regained his lucidity.
Around the two main characters, in the lower part of the collage, we see some dogs following in the footsteps of our heroes. This is a direct illusion to a phrase falsely attributed to Don Quixote "Ladran, Sancho, señal que cabalgamos", the title of the collage and which is nowadays widely used to indicate that something or someone is moving forward despite the criticisms, obstacles and problems that may arise. 
On the left side of Don Quixote is a woman with a bare chest. This is Dulcinea, the embodiment of beauty and virtue in the spirit of Don Quixote. In the background on the left is one of the windmills that Don Quixote confused with long-armed giants.
In the sky, we observe hot-air balloons, they symbolize the desire to rise into the sky and the happy quest of Don Quixote, a passionate idealist nourished by romantic illusion.
Finally, at the very top, we recognise the Christ of Saint John of the Cross, painted by Salvador Dalí in 1951. The Christ refers to Miguel de Unamuno's work "Our Lord Don Quixote", a hymn to Don Quixote's divine madness in which Unamuno saw nothing less than the modern representation of Christ.