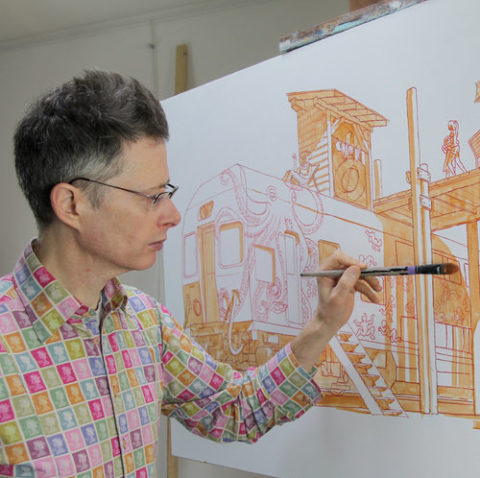 Because of his Franco-English origin,

Rudyard Heaton

spent his childhood between France and England. After having completed a Bachelor in History of Art at the Goldsmiths College in London, Rudyard joined the University of Tamagawa in Japan where he discovered local traditional painting techniques. Back in France, he is trained in animated movies set and design at the École des Gobelins.
His figurative works illustrate his attachment to everyday life, to the simple things around us that he stages with great care. Around an audacious and subtle composition, where precise lines alternate with looser brushstrokes, innocuous objects from our environment are articulated in an unusual way, in a touching beauty.
In his contemporary figurative works, the feeling of the first draft is preciously preserved in order to maintain the lightness of workmanship. The holes and blanks left by the brush are just like number of suggestions, appeals to the poetry and imagination of the viewer.
Today, Rudyard exhibits his works in several galleries and also participates as a decorator in various cartoon projects.
MEDIUM: OIL ON CANVAS