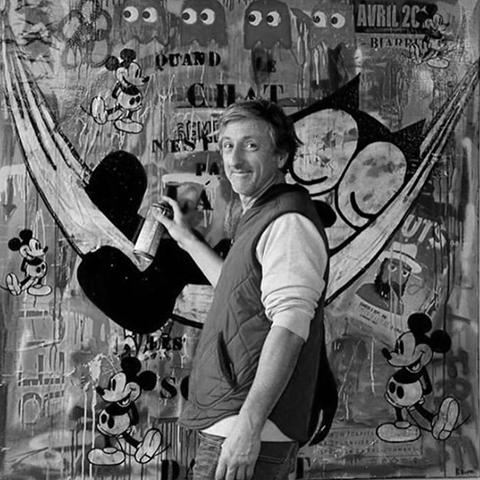 Born in 1966 in the south of France, Kikayou has always wanted to create, to mark a world in his image, full of  energy, teeming with ideas but devoid of any pretension. Inspired by the work of Basquiat, the Pop Art of Warhol, the collages of Villeglé, the fury of Dali… the artist takes us into "his" pictorial world, between street-art and urban art. A joyful, impulsive space where the heart of his work shows a chaos that invites us to live life to the fullest.
An artist shows us that we must live, enjoy, try… He looks to discover other worlds and delivers his visions to us through a clever mix of performance, strength, and vivacity. Elements of unconscious ventures, memories, dreams, and traces of life are depicted, work after work, attempting to convey the artistic language of the artist.
For Kikayou, images are found in his memory and begin to come alive. This spirited artist shares every moment with us both in terms of an unconscious journey he leads us on, but also through his physical experimentation and the choice of materials used. His virile quest for colours and sensations will lead the viewer on a path to his own interrogations, worries, thrills, obsessions.… Kikayou paints in the Basque countryside surrounded by his large family and continues to create his fantastic universe in line with topical concepts, and a few vital ingredients … talent, imagination, emotions, and relevance.
TECHNIQUE: ACRYLIC ON CANVAS & COLLAGE