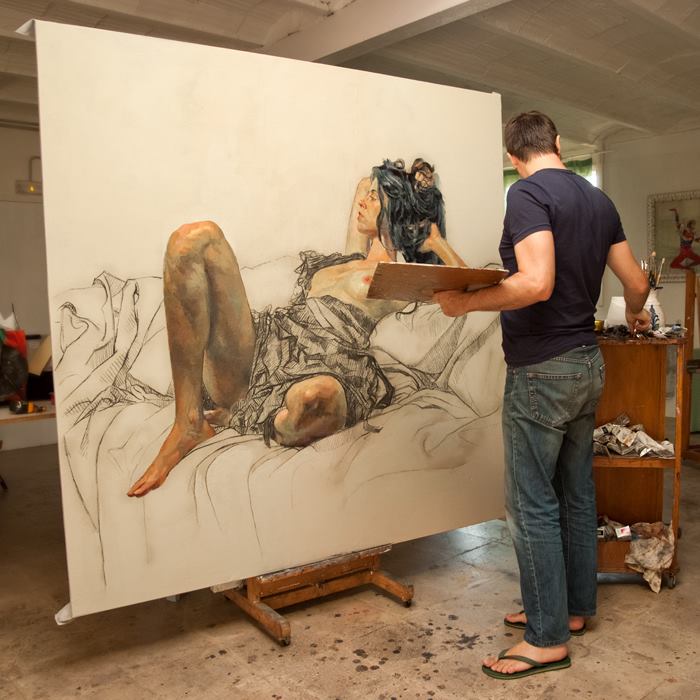 Ramon Ruiperez was born in 1966 in Barcelona and began his artistic training at the age of 16 at the academy "Taller de quatre pintors". He continued his artistic training at the Fine Arts of the University of Barcelona where, for 4 years, with professors such as Gloria Múñoz, Ruiz Ortega and Alfonso Crespo, he deepened his knowledge of art and its history and aesthetics.
After graduating from university, Ramon experienced a rather nihilistic period. A tragic humanistic vision emerges from his works, while black and dark blues dominate his palette. Ramon works also in a very particular way with the lighting of his paintings, giving them a shadowy note. One can perceive in his production the influences of painters such as Rembrandt, Goya and Caravaggio.
At the beginning of the 90s, the works he exhibits take a new artistic direction. Oriented towards symbolic naturalism, his palette begins to be warmer and less aggressive. Ramon begins to decompose the tones and to widen the chromatic range of his colors. The influence of Paul Cézanne can be felt through his compositions, both on the chromatic level and in his way of decomposing the light. His production gradually slides towards a more impressionist period: his paintings become less rough and more colorful.
Today, intimate and deep human sensations are at the heart of his artistic approach. As he explains: "To counteract a dehumanized world, I try, through my paintings, to grasp the importance of emotions and human relationships. My subjects are always linked to my present: motherhood, childhood, expressions, gestures, the elderly and other significant moments of human existence. »
Ramon's works are part of many private collections in Spain, France and the USA. 
MEDIUM: MIXED MEDIA