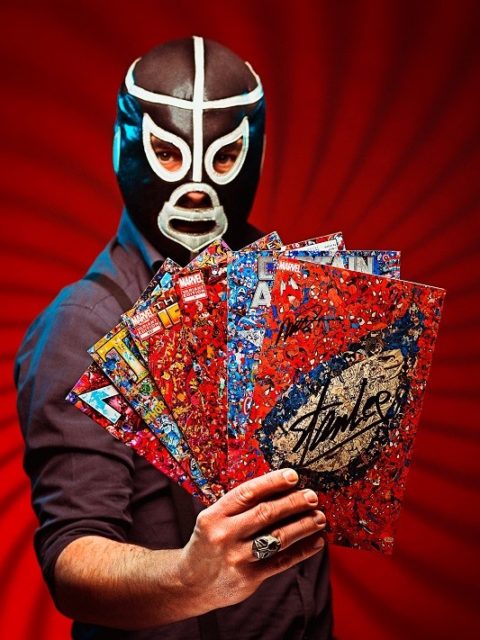 Self-taught and visionary artist, Mr. Garcin has never stopped revisiting the mythical figures of Pop-Culture. Mr. Garcin cuts and reassembles in a dense and colorful figurative style the comics and other comics as a kind of graphic DJ. He does it with such a virtuosity, that the Marvel executives themselves are impressed. When they discover, at the end of 2011, his work "Spider-Eye", they decide to make the cover of the now mythical #700 of "Amazing Spider-Man". This issue closes 50 years of adventures and will become one of the best selling in history.
This work was notably presented during the great exhibition on "The art of Marvel superheroes" at the Musée Art Ludique in Paris in 2014. Thereafter Marvel continued to commission him to create comic book covers for its most iconic characters (Iron Man, Thanos, Captain America etc…). Mr. Garcin even had the honor of being selected among 20 artists worldwide to create a cover for the comic book "Marvel 1000" celebrating the 80th anniversary of "The House of Ideas"!
Since then, he's been making covers for books, magazines and even records (The history of Capcom, 75 years of Marvel art etc…). The art posters for "DC Comics" (Batman, Wonder Woman…) also follow one another thanks to the specialist "French Paper Art Club" as well as exhibitions throughout France (Galerie Arludik and Sakura in Paris, Christiane Vallé in Clermont-Ferrand, St Ravy in Montpellier etc…), all successful.
95% of his works have been sold to date. A magnificent book (Ed. Pix'n Love) on his career and his first 100 collages has just been published.
MEDIUM: ANALOG COLLAGE