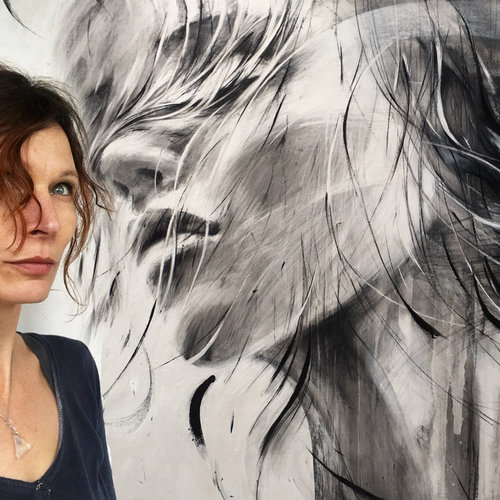 ---
Originally from Poland, Ewa Hauton is a contemporary French artist who lives in Nantes. As a kid, Ewa was surrounded by brushes and accustomed to the strong smells of oil and varnish emanating from her mother's painting workshop. Encouraged to follow her dreams, Ewa studied painting at the School of Fine Arts, then decided to go to France as an "au pair".
Very early, the theme of dance and the movement of bodies occupied a prominent place in Ewa's artistic production. During a competition for young talents organized in Lille, she presented a diptych entitled "Dance" which won the jury prize entitled "Stars of Painting". Ewa was also very involved in scenography. In Charente Maritime, she participated in the creation of an association of artists and worked on numerous commissions for the city of Saintes, theater companies and individuals.
Unexpectedly, she met a choreographer who allowed her to define a whole new artistic direction. From then, the human body and female forms in movement were at the heart of Ewa's production.
Today, by discarding the superfluous of shapes and colors, Ewa restores, with great sensitivity and delicacy, the movements of the body, keeping only the essential: the expression of life.
Between ink and oil, abstraction and figuration, Ewa's feminine and delicate bodies come to life, filling our eyes with wonder by so much transparency and voluptuousness.
On her works, using ink on paper, Ewa limits herself to black and white. Only a small touch of color will, as a small jet of life, revive the whole.
MEDIUM: INK & CHARCOAL ON PAPER – OIL ON CANVAS