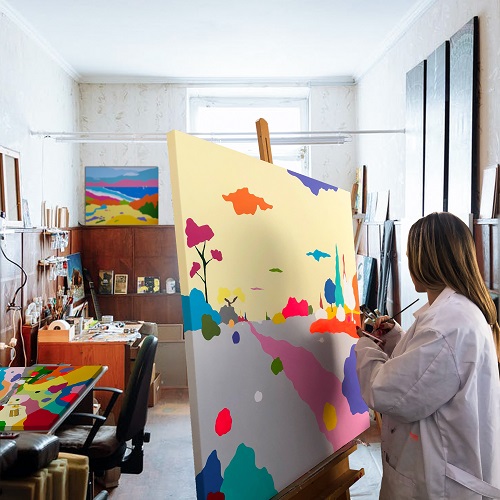 Ana Fernández had a particularly happy childhood. She still remembers her summer holidays she spent with her grandparents in the country side of Valencia, filled with fragrant fig trees, pomegranate trees and covered by thousands of olive trees.
Ana showed a predisposition for art in elementary school. She later entered the Valencia School of Fine Arts and completed her training with the well-known Spanish painter Vicente Giner. Her artistic approach is essentially based on the exploration of color. In her works, she constantly transforms everyday elements into a colorful and lively language. Today, she uses several mediums such as acrylic, gouache and watercolor to soften her tints and add depth.
For Ana Fernández, colors are at the center of her daily life. The places she depicts seem both naive and surreal, resulting in sincere and moving paintings where shapes and volumes give way to color and emotion. 
In front of his works, the spectator is immediately fascinated by the visual strength that emerge from these landscapes, from this luminous and abundant nature. Whimsical and joyful, the landscapes of Ana Fernandez are full of freshness. The mountains, the stones, the trees and the houses, everything seems to be animated by gaiety and joy of life.
Ana Fernández's paintings are a magnificent invitation to wonder, reminding the collector to enjoy every moment of life.
MEDIUM: MIXED MEDIA